The Benefits of Wearing Men's Linen Shirts
A Stylish and Comfortable Menswear Staple

Look Sharp in Stylish Men's Linen Shirts
A timeless classic, linen shirts have been a preferred choice for men looking for comfort and style. These shirts are versatile enough to be worn in a variety of settings and they exude an elegance that few other options can match. Here's a comprehensive guide to help you choose and style the perfect linen shirt to look and feel great.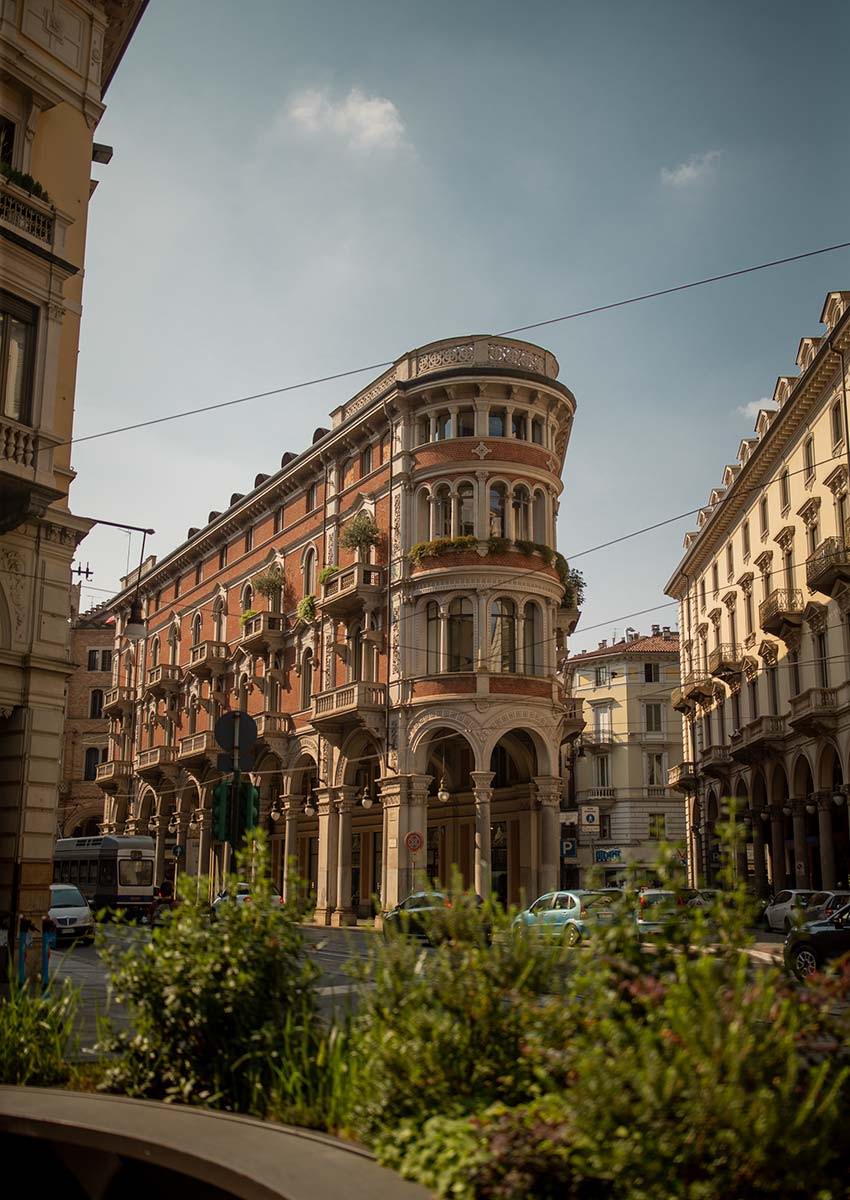 Sometimes, a leather belt can enliven your style like nothing else: a garment that will enhance the quality of any outfit and that you'll love wearing for years to come.
Leather belts of the highest quality ensure durability and uniqueness for your everyday wardrobe. They hold their shape nicely and adapt easily, becoming more comfortable over time and providing a stylish look even after countless uses.
They're also highly versatile garments that fit perfectly with both casual and formal attires. You won't need a plethora of belts, as long as you own a few in neutral colours to put on that will work on any occasion.
Today we'll look into what makes our handcrafted leather belts unique and why they're the ultimate choice to enhance all kinds of styles.
Turin contains multitudes: a city that's both industrial and artistic, ancient and modern, an amazing place of history and beauty where you can experience the authentic Italian lifestyle at its absolute best.
Torino is the northernmost major city in Italy, facing the majestic Alps and constantly caressed by its breeze. Yet, the city feels Mediterranean, with an atmosphere reminiscent of a southern flair that couldn't be more different from the hectic, metropolitan style of nearby Milan.
Nestled between the Po River and the Alps, Turin was a major national and European political centre for centuries. It was the first capital of unified Italy (the Kingdom of Italy), and the then-governing House of Savoy built majestic palaces and a modern infrastructure to celebrate the city's importance.
Like most Italian cities, Turin went through a series of significant historical changes that determined its architecture and aura. It was one of the country's first and most industrialised cities between the end of the 19th century and the early 20th century; together with Milan, Turin and its industry laid the foundations for the post-war Italian miracolo industriale: it is, to this day, a crucial crossroad for industry, commerce, and trade.
If you're looking for inspiration for your next trip to Turin, here's what you can do in 24 hours in one of the most beautiful Italian cities.
The Timeless Appeal of Linen Shirts
A linen shirt can be the ultimate addition to any wardrobe, providing excellent comfort and style that never goes out of fashion. Indeed, linen is famous for its softness, breathability and hypoallergenic qualities, making it a perfect choice for the warm months. It's no wonder, then, that linen has been around for centuries.
A Brief History of Linen Shirts
Linen is one of the oldest fabrics used in clothing and has long been prized for its unique properties. It's made from the fibres of the flax plant and has been cultivated for thousands of years. The ancient Egyptians used to wear linen as a symbol of luxury and it's still favoured by many for its comfort and texture.
Over the years, linen has been used for a variety of purposes, including clothing, bedding and even currency. In fact, the word "linen" comes from the Latin word "linum," which means "flax." Linen was once considered a luxury fabric and was reserved for the wealthy. However, as production methods improved, linen became more accessible to the masses.
Why Linen Shirts Remain a Classic Choice
Despite being around for such a long time, linen shirts have retained their appeal and are still worn by men today. The reason for this is simple - they are versatile, easy to wear and style, and can add a touch of sophistication to any ensemble. Whether you're dressed up or down, a linen shirt can be the perfect choice.
One of the great things about linen shirts is that they come in a variety of colors and styles. You can choose from classic white or beige, or opt for something more colorful like blue or green. Linen shirts can also be dressed up or down, depending on the occasion. Pair a linen shirt with a suit for a formal event, or wear it with jeans for a more casual look.
Another reason why linen shirts are so popular is that they are easy to care for. Unlike some fabrics that require special cleaning methods, linen can be machine-washed and dried. It's also relatively resistant to stains, making it a practical choice for everyday wear.
Finally, linen shirts are perfect for warm weather. Because linen is lightweight and breathable, it's an excellent choice for hot and humid climates. It can help keep you cool and comfortable, even on the hottest of days.
In conclusion, linen shirts are a classic choice that will never go out of style. They are versatile, easy to wear and care for, and perfect for warm weather. Whether you're looking for a formal or casual shirt, linen is a fabric that should be in every man's wardrobe.

Choosing the Perfect Men's Linen Shirt
When it comes to summer fashion, linen shirts are a must-have. They're lightweight, breathable, and perfect for keeping you cool and comfortable in the heat. However, with so many different styles, colors, and fits to choose from, finding the perfect linen shirt can be a daunting task. Here are some tips to help you choose the ideal linen shirt for your summer wardrobe.
One of the most important considerations when choosing a linen shirt is getting the right fit. It's important to choose a shirt that's neither too tight nor too loose. A well-fitting linen shirt should be comfortable, allowing you to move freely without feeling constricted. You should also consider the length of the shirt, ensuring it's not too long or too short. A shirt that's too long can make you look sloppy, while a shirt that's too short can make you appear unkempt.
It's also worth noting that linen shirts tend to wrinkle easily, so don't worry too much if your shirt isn't perfectly pressed. In fact, a slightly rumpled look can add to the shirt's charm and casual appeal.

Luca Faloni men's linen shirts are available in both a regular fit and a slim fit.
Linen shirts come in a variety of colours, so it's essential to choose a shade that complements your skin tone. Generally speaking, light-coloured shirts look great on fair-skinned men, while dark-coloured shirts flatter those with deeper skin tones. Neutral colours like beige, navy and white are classic options that can go well with any outfit.
However, don't be afraid to experiment with bolder colours like pink, green, or even coral orange. These colours can add a pop of personality to your outfit and make you stand out from the crowd.
Understanding Different Collar Styles
The collar of a linen shirt can make a considerable difference in the overall look and style of your outfit. The most common collar styles for linen shirts are the signature one-piece classic collar, the spread collar or french collar and the band collar.
The classic collar is the most handsome of the three and is perfect for a statement look, achieving an iconic dolce vita appeal. The spread collar, on the other hand, is ideal for more smart-casual occasions and can be dressed up or down depending on the occasion. The band collar, which has no collar points, is a contemporary and stylish option that's perfect for summer. Luca Faloni band collar linen shirts are available both in a full length or popover style for any personal preference.
Ultimately, the collar style you choose will depend on your personal style and the occasion you're dressing for. Regardless of which style you choose, however, a linen shirt is a versatile and stylish addition to any summer wardrobe.
Dressing Up or Down with Linen Shirts
Linen shirts are a versatile piece of clothing that can be dressed up or down depending on the occasion. They are perfect for warm weather, as they are lightweight and breathable. Linen shirts come in a variety of colors and styles, making them a great addition to any wardrobe.
Casual Outfit Ideas with Linen Shirts
If you're looking to dress down your linen shirt, consider pairing it with denim jeans or cotton chino shorts. This look is perfect for casual evenings out or for any occasion where you want to feel relaxed and comfortable. To complete the outfit, you can either wear sneakers or loafers.
For a beachy vibe, pair your linen shirt with a pair of linen shorts and sandals. Add a linen scarf to complete the look. Alternatively, you can wear your linen shirt with lightweight cotton chinos or linen trousers for a laid-back yet stylish look.
Pairing Linen Shirts with Formal Attire
Linen shirts can also be an excellent option for more formal occasions. To dress up a linen shirt, pair it with a pair of dress pants and consider adding a linen blazer or a tailored jacket. Loafers or dress shoes can complete the look, making it ideal for weddings, evening events, or business meetings.
If you're attending a summer wedding, pair your linen shirt with a light-colored suit and a pocket square. For a business meeting, wear your linen shirt with a navy blazer and dress pants. Add a pair of leather dress shoes to complete the look.
Accessorising Your Linen Shirt Look
Accessories can help elevate the look of your linen shirt. Consider pairing it with a simple leather belt, a stylish watch, or a pair of sunglasses. A pure linen scarf can also add some elegance to your ensemble, and a pocket square can bring a pop of color to your jacket.
If you're going for a more casual look, you can accessorise with a woven belt and a pair of aviator sunglasses. For a formal look, opt for a calf leather belt and a dress watch. Don't forget to match your shoes with your belt for a polished look.
In conclusion, linen shirts are a versatile and stylish addition to any wardrobe. Whether you're dressing up or down, linen shirts can be worn in a variety of ways to suit any occasion. With the right accessories, you can elevate your linen shirt look and make a statement wherever you go.
Caring for Your Linen Shirts
When it comes to summer fashion, linen shirts are a must-have for both men and women. Not only are they stylish and comfortable, but they also have excellent breathability, making them perfect for hot and humid weather. However, with great style comes great responsibility and it's essential to learn how to care for your linen shirts properly. In this article, we'll provide you with some tips and tricks to keep your linen shirts looking as good as new.
Before washing your linen shirt, it's crucial to check the care label for any specific instructions or you can refer to our trusty care guide. Generally, linen shirts should be washed in cold water at 30ºC on a gentle cycle, using a mild detergent. Avoid using bleach or fabric softener, as they can damage the fabric and cause discoloration. If you're washing your linen shirt for the first time, it's best to wash it separately to avoid any color bleeding.
When it comes to drying your linen shirt, line drying is recommended. Avoid tumble drying, as the high heat can cause shrinkage and damage the fabric. If you must use a dryer, use a low heat setting and remove the shirt while it's still slightly damp. This will help to prevent wrinkles and make ironing easier.
Ironing and Steaming Recommendations
Ironing your linen shirt is essential to keep it looking neat and wrinkle-free. However, using the correct temperature is crucial to avoid damaging the fabric. It's best to iron your shirt while it's still slightly damp, using a medium to high heat setting. If your linen shirt is heavily wrinkled, you can use a spray bottle to dampen it before ironing.
If you don't have an iron or prefer not to use one, you can use a steamer to remove wrinkles from your linen shirt. Steaming is a gentle and effective way to get your shirt looking sharp and wrinkle-free. Simply hang your shirt on a hanger and use the steamer to remove any wrinkles.
Storing Your Linen Shirts Properly
Proper storage is essential to keep your linen shirts looking their best. When storing your shirt, it's best to fold it neatly and store it in a cool, dry place. Hanging your linen shirt can cause it to stretch out of shape and lose its crispness. If you must hang your shirt, use a padded hanger to avoid any creases or marks.
Additionally, avoid storing your linen shirt in direct sunlight, as this can cause discoloration or fading. If you're storing your shirt for an extended period, consider using a garment bag to protect it from dust and insects.
By following these simple tips and tricks, you can keep your linen shirts looking as good as new for years to come. With proper care and maintenance, your linen shirts will be a staple in your summer wardrobe for many seasons.
If you're looking for a comfortable, stylish, and timeless addition to your wardrobe, linen shirts are an excellent choice. From the office to the beach, a linen shirt can be dressed up or down to suit any occasion. Remember to choose a style and color that suits your needs, and take good care of it to ensure that it lasts for years to come. With these tips, you'll be looking sharp and feeling comfortable in no time.